BULLETIN – JANUARY 2018

THE DIRECTOR'S EDITORIAL
At the beginning of each year one wonders what the prior year may be remembered for.  No need to describe the scum that surfaced over the social boils of 2017 – too many incompetent idiots pretend to have business in places where they don't belong – Italy first! But, I admit, politics are too biased in this country to have a constructive debate.  Moreover, some of our members may not share my sentiments of embarrassment and revolt.  Therefore, allow me to shift to a more neutral area, the world of music, a realm where those worthy of remembrance rarely make uncorroborated claims.
After the unexpected recent losses of giants of the caliber of David Bowie and Prince, the list grew larger last year with Chuck Berry, Gregg Allman and Fats Domino, plus some unexpected, premature exits like Tom Petty, Walter Becker and Malcolm Young.  As their departure is a reminder of the brevity and fragility of life, at the same time, it is a memento of the contribution a single human being can give to the humanities.  But this is not my eulogy about famous artists.  Instead, I would like to point out the daily miracle of single mothers who raise their children on a meager income. They often go unnoticed, though they make miracles and remind us of the greatness one can achieve at a small scale – which demonstrates that all of us have the ability to be game changers.
These days, I see goodness around me, more than I see ruthlessness.  In fact, there are perks even in times of loss, looming wars, supremacist pillage, politic divisiveness, bigotry and ignorance.  These burdens of the human mind beget kindness. Life goes on and regenerates itself.  And, if anything, 2017 has made us wiser, more considerate and aware of the quirky status quo, with all its bare truths, false readings and fictional reality.  The advent of arrogance and selfishness in politics – and not just in the US – has awoken many of us to an important multi-faceted call: to preserve the human experience, to care for the planet, its plants and animals, to prevent conflict, to stop abuse and greed, denounce immoral politicians and their racist and divisive agenda, call out the idiots, foster education, defend women and children from bullying and harassment,  promote civility, practice racial and religious tolerance  I am saying this poignantly, on this very Martin Luther Kind Day.  Our mission in life should be to love, love and love, as much as we can bear it. We are the knights and guardians of the world.  We see other knights come and go, leaving a great legacy behind.  We are all custodians of our civil society, and we can lead it to a better place if we start believing that we can change things around us with our kindness, our attention, our self-awareness, our guardianship, our actions and our unity. Multiplied by a million, small gestures get noticed!
On New Year's Eve, I toasted to the power and the resilience of the human spirit, and to our higher ethical ground, hoping that we are all together, all colors, all creeds and preferences, all humbly learning lessons from our mistakes.  If you are with me, I hope you make the jump that this image is suggesting, or, even better, that you come join us on January 31, to celebrate the New Year.  I am Giancarlo Pirrone
OUR 2018 CALENDAR, SO FAR
DINNER AND A MOVIE
Our review of the winners of the 2017 Italian Film Festival continues in February with the fourth classified in 2017, the funny comedy Forever Young.  The movie will be followed by an informal conversation and a dinner. Stay tuned for date and time!  You may pencil in February 21 – Date to be confirmed!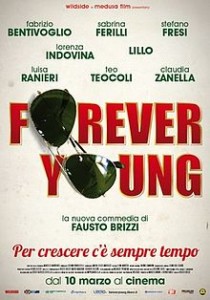 OUR LECTURE SERIES
Our lecture series continues in March with a lecture on the amazing work by Italian architect Carlo Scarpa.  Scarpa is one of the most profound masterminds who operated in our homeland in modern times. Our lecturer has exclusive images of places which are no longer accessible to the public. Scarpa's work is a feast for the eyes, an intimate and sophisticated approach in the vast realm of modern architecture with its elegant integration with our historical past.  Stay tuned for date and time!
THE XII ITALIAN FILM FESTIVAL
Presented by Claudio Di Persia, the Italian Film Festival takes place this year not in April but on the second week of May 2018, always at the Plaza Theatre. Stay tuned for date, time and movie schedule!
LA FERRARI FA 70 ANNI

Who hasn't dreamed of driving or owning one?  Ferrari is a symbol and emblem and today it is 70 years old!  The legacy left by Ferrari's design and technological innovation is baffling and unparalleled, especially for a brand born in a garage.  One could easily say that Ferrari has lead sport auto-making to what it is today.  By widespread consensus, it is also the most recognized brand and coveted sport car in the world.  Small wonder, for it design has always challenged the status quo, always reaching new grounds.  Its technology leaped forward, from aluminum-box chassis (scocca scatolare), to ultra light titanium-alloy and carbon-fiber components, to its amazing V-engines, the first ever able to pull 500 horse-power out of a 3 liter propulsion system; reaching, eventually, a mind-blowing, asphalt-tearing 930 bhp, with its 3 liter F1 V10.  Its innovations have been copied over and over again, becoming standard equipment in Porches and Jaguars around the world.  But this is just the beginning of the Ferrari legacy.  Competition pilots (my category was 500 c.c. speed motorcycles) know what was done to its Dell'Orto carburetors, variable-length intake manifolds, amazing Brembo breaks and disks, dual clutch transmissions, compressors, engine heads, pistons and crankshafts, spoilers and skirts, both is terms of power/weight ratio, and reduction of parasite frictions.  Ferrari has also been a world leader in terms of aerodynamics. And what about its stunning pilots? From the legendary Ascari and Fangio, to Surtees, Bandini, Lauda, Hill, Massa, Schumacher, Ferrari was joined by some of the best pilots in the world, making history with many world titles and long uninterrupted winning streaks of six consecutive world titles, from 1999 to 2006, during which Ferrari was unseizable and elusive, indeed the F1 team to reckon with. In conclusion, the Ferrari brand remains a testimony of the Italian class, technology, resilience and creativity, the proof that a generation of embarrassingly crude and idiotic Italian politicians cannot affect the achievements of our beloved nation.  For more images of its anniversary, click here Yours, AGP
20 RULES ITALIANS WILL NEVER BREAK
Speaking of coffee, are you in the mood for humouring yourself? Do you wonder what distinguishes Italians? What make them behave in a certain way? What is "acceptable" versus what is not?  Here is, for instance, why Italian espresso does not come in 100 varieties, or meatballs are never served with pasta.  This one is by the brilliantly funny "Marco in a Box."  Click here!
OUR BOOK LIBRARY
We just received a book donation from Franca Haynes.  We are in the process of inventorying our Italian book library, which spans across various literary genres.  We will post our available titles on our website next year.  Our members and subscribers will have the opportunity to participate in this free circulating library, exchanging one of their Italian books for one of our Italian books.  This is a barter program, without exchange of money. It is meant to foster reading and circulation of Italian literature.
WHO MAKES CIANCIA POSSIBLE?
Ciancia is brought to you by a Steering Committee of outstanding, dedicated and accomplished professionals, each one bringing to the table amazing expertise in communication and event production. This is entirely a team of volunteers, all strong believers in the great rewards of social interaction, intellectual curiosity, diversity, and cultural engagement. We admit new committee members on a regular basis. If you think that you have the drive and the time to take over one of the numerous responsibilities that make Ciancia possible, please step forward at one of our meetings.
Here is our current roster:
Arturo Giancarlo Pirrone, President
Alessio Medda – Planning and Special Events
Whitney Easton, Editing and cultural activities
Allyson Gwaltney, cultural activities
Piero Tarantelli, sponsors and host coordinator
Stefano Grossi, IT Team, website design
back to top